NOW AVAILABLE: SCIENTIFIC BARBARIAN Annual No.1!
Celebrating our first year of publication, we now bring you a fantastic way to collect and catch up on past issues of SCIENTIFIC BARBARIAN. The SCIENTIFIC BARBARIAN Annual No.1 collects our first four issues into one 440-page, 6" x 9", handsome hardback volume with Smyth sewn binding — perfect for table use or shelfie photos.

The backers have gotten their copies! The pre-orders have shipped! Now you can get your own copy too — just hit one of the big red buttons below. Now shipping Internationally via Amazon!




Get SCIENTIFIC BARBARIAN Annual No.1!
---
NEW IN THE STORE: Fire in the Mohle for MCC RPG!
New from Silver Bulette! In a time of the Ancients, this outpost was used by the Great Science Apes to explore the depths of the arteries of the planet itself. It is unclear whether the Great Science Apes were native to this planet or whether they visited, perhaps seeking some valuable research, or completing dangerous experiments somewhere far away from home. But these Apes have left an indelible mark and wealth of riches for an intrepid seeker.

Face off against the dangers of a Cyborg Giant Mutant Possum in order to discover the treasures held in this forgotten facility. Whether you outwit the base security and discover powerful artifacts or die gloriously, this adventure offers hours of fun.

Get FIRE IN THE MOHLE now!
---
NOW AVAILABLE: SCIENTIFIC BARBARIAN No.4!
Hot of the presses, our 154-page Giant-Sized 4th issue features three separate adventures inside, more new gaming content than you can shake a glow stick at, plus the usual assortment of reviews, comics, and commentary. It's like getting a whole splatbook of content for a mere $14.99.

The backers have gotten their copies! The pre-orders have shipped! Now you can get your own copy too — just hit one of the big red buttons below. Now shipping Internationally via Amazon!





Get SCIENTIFIC BARBARIAN in the US!





Get SCIENTIFIC BARBARIAN in the International Store!
---
NEW IN THE STORE: Get Me The Juice: A Level-1 MCC Adventure
A fresh and brand new Mutant Crawl Classics adventure that you can bring to your post-apocalyptic adventure tables. Available in a Print+PDF bundle, "Get Me the Juice" is the second adventure module created and published by Tim Sattley and High Dive Games.
Built on the MCC chassis, this thematically correct scenario is filled with all of the post-apocalyptic situations, locations, artifacts and hijinks you'd expect (not to mention a host of surprises).  Best of all, this adventure can be easily converted into any other post-apocalyptic d20 system, should the need arise.
Get Me The Juice now!
---
NEW IN THE STORE: Moon Mutants No.5!
The zine set on a post-apocalyptic moon is back with issue No.5, and we have them right here. Based on Reid San Filippo's Umerica setting, David Marcus Coppoletti and crew deliver another issue with 42 pages of content for lunar adventures in any d20-based post-apocalyptic campaign. Go grab the new issue, and any of the prior issues you may have missed!
Also, we have restocked Dandyline Games' two deluxe adventures Seekers of the Un-K'nown and The Time-Lost Citadel. Bet you didn't even know we sold out of them? Well we did, but they are back in stock. That's how good we are. Each adventure comes with full-color maps and savage mutant mayhem and adventure!
Get MOON MUTANTS now Get SEEKERS or TIME-LOST now
---
ADVENTURE GAMING magazine available again! Get all 13 issues now
Relive a bold experiment in publishing, born in the heart of gaming history.
ADVENTURE GAMING magazine was founding editor and publisher Tim Kask's third magazine, after The Dragon and Little Wars. In ADVENTURE GAMING, all gamers were welcome. The magazine presented articles, editorials, reviews, and comics that covered a broad spectrum of gaming, from traditional wargames and boardgames to the first generation of role playing games.
All 13 issues of of Tim Kask's seminal ADVENTURE GAMING magazine are now available as PDFs in our webstore, as both individual issues and a specially-priced 13-issue bundle.
Go get some greatness from the Golden Age of Gaming!
Get ADVENTURE GAMING now!
---
NEW IN THE MUDPUPPY STORE: The Time-Lost Citadel for MCC RPG
Straight from Dandyline Games comes The Time-Lost Citadel, their second adventure and sequel to Seekers of the Un-K'Nown. This time the action moves to a post-apocalyptic Mars, and features over 100 pages of catastrophic content spread over two booklets and a double-sided color map. Take your party of wasteland warriors to where no post-human, animal-man, or plantling has gone before!
Get The Time-Lost Citadel Now!
---
Announcing International Shipping
We've been working hard on cracking this problem for what seems like eons, and we're are very proud to announce that select Mudpuppy Games books are now available for International shipping outside the U.S.
Fulfillment and shipping for these books is through amazon.com, which means the shipping costs are localized to your part of the planet. If you happen to be an Amazon Prime member, the shipping costs may be even less! In simpler language, instead of paying $25+ dollars to have a $15 book shipped across a border or ocean, International customers just pay the local shipping costs for their hemisphere, continent, or country.
Check out our new International shipping store to see for yourself!
Mudpuppy Games International
---
NEW IN THE MUDPUPPY STORE: Gary Con Releases!
Couldn't get to Gary Con this year for the new releases? Well, we've got you covered. The Dread From Geneva Lake was the Official Gary Con Module this year, brought to you by the malevolent minds of Skeeter Green and Luke Gygax. If a Call of Cthulhu adventure set inside a certain well-known game convention is your kind of foreboding elder dread, then this one will certainly tax your sensibilities and your sanity.
We also have Tim Sattley's brand new adventure for MCC RPG, Tribal Games: Tournament of Champions. Have you characters always been to afraid to capture and tame a giant grasshopper for a mount? This adventure will not only give you one, it invites you to take them jousting. And that's just one of the many tournament contests that allows your PCs to go run with the big canines.
So what are you waiting for? Just hit the big red button like you're about to blow up the whole installation!
Go Get Some Gary Con Releases!
---
NEW IN THE MUDPUPPY STORE: Seekers of the Un-K'Nown!
Welcome to the world of Classics Mutated, where everything old is mutated again! Seekers of the Un-K'Nown is an MCC RPG adventure for 1st level characters.
Chance detonations have awoken something evil — a "smart metal" fiend that is now raiding your village, including kidnapping members of your tribe. The village chief deems it fitting that you and your comrades mount a rescue team to penetrate the dreaded "Lands of Boom" and find the missing captives.
Get Seekers of the Un-K'Nown Now!
---
NEW RELEASE: SCIENTIFIC BARBARIAN D2 Death Die
About to die anyway?
Did your character just fall off a cliff? Take a particle beam to the skull? Miss that saving throw versus dragon breath? Then you may as well take a chance on using the SCIENTIFIC BARBARIAN D2 Death Die! Just flip the die and there's at least a 50% chance you somehow miraculously defied death's door, with at least half your hit points restored. But be warned, such miracles come at a cost. If you use the D2 Death Die and survive, you now owe a favor to VarDOS, the three-eyed cyber-lich. It was his power that spared you, and you know he is going to come and collect on that debt.
---
IN STOCK: SGP products for DCC/MCC RPG!
The Mudpuppy Store is proud to feature Skeeter Green Publications products for DCC RPG and MCC RPG! From SGP's loving homage to the infamous Tomb of Horrors, Crypt of the Science Wizard (with included book of illustrations), to their monstrous compendium of new creatures, Cryptocodex, you can get both products with just a few clicks — in Print+PDF format!
Get SGP Products Now
---
NEW RELEASE: Game Wizards Gary and Dave Minis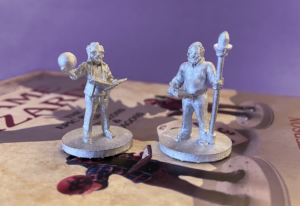 In 1974, Gary Gygax and Dave Arneson created the World's Most Popular Role Playing Game, and gaming has never been the same since. Now you can bring the Original Game Wizards right to your tabletop, captured in all their 1970s glory!
As featured on the cover of Jon Peterson's new book Game Wizards: The Epic Battle For Dungeons & Dragons, each of these 28mm white metal miniatures has been lovingly crafted to represent the founders of our hobby as they were when role playing games were first aborning.
Get Game Wizards Minis Now
---
Featured Products
Go to the Mudpuppy Store