COMING SOON: SCIENTIFIC BARBARIAN No.4 and 2021 Annual
SCIENTIFIC BARBARIAN No.4
Our 1st Anniversary issue is going to be 120+ pages (and you know us, probably more), all for the same coin. That means SCIENTIFIC BARBARIAN No.4 has all our regular features and comics, plus three (count 'em three) compete adventures to challenge your players. Night of the Space Apes by Charles W. Vieser reveals a few of the lost secrets of the Great Disaster, while Michael Stewart's Center of Repose is an exciting adventure that takes place among the S.A.B.L.E. Rangers he created for Issue No.1. Last, but not least, we present Jim Wampler's Holding Up The Sky — the underground adventure half of the wilderness hex crawl begun in The Shatterback Mountains from Issue No.3.
GIANT-SIZED 1st Anniversary Issue, plus the 2021 ANNUAL!
The Merry Mutant Madness marches on! Not only did we make SCIENTIFIC BARBARIAN No.4 a GIANT-SIZED 1st Anniversary issue, not only did we decide to pack three adventures into it along with our regular featured content, but we even decided to publish a hardback annual celebrating our first year of publication! The 2021 Annual is 500+ pages thick, and contains our fantastic first four issues plus a bonus surprise or two!
---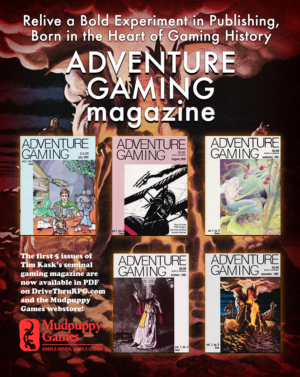 ADVENTURE GAMING magazine available again!
Get the first 5 issues now!
ADVENTURE GAMING magazine was founding editor and publisher Tim Kask's third magazine, after The Dragon and Little Wars. In ADVENTURE GAMING, all gamers were welcome. The magazine presented articles, editorials, reviews, and comics that covered a broad spectrum of gaming, from traditional wargames and boardgames to the first generation of role playing games.
The first 5 issues of of Tim Kask's seminal ADVENTURE GAMING magazine are now available as PDFs in our webstore.
Go get some greatness from the Golden Age of Gaming!
Get ADVENTURE GAMING Now
---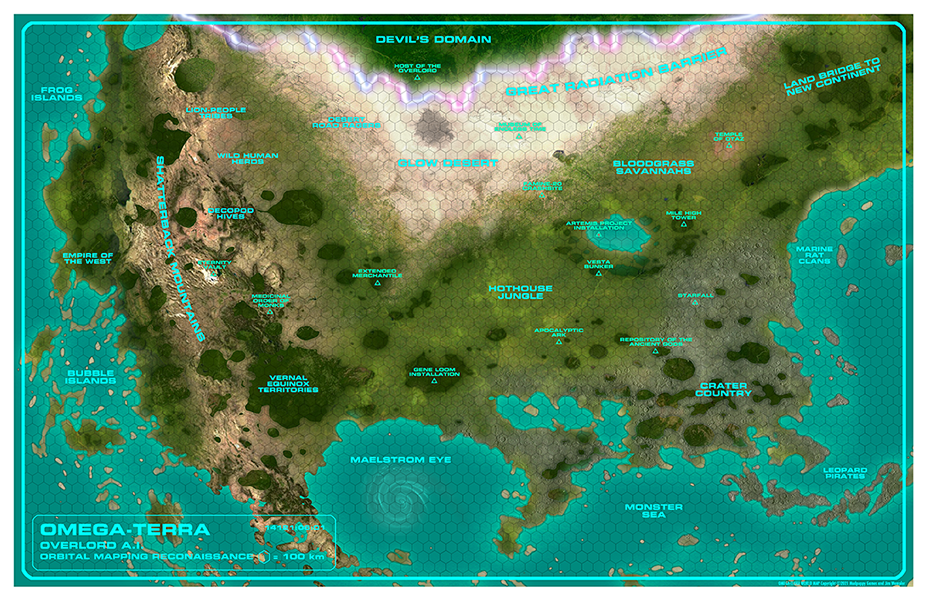 Omega-Terra World Map Now Avalaible!
Set 10,000 years after the fall of a super-scientific culture, Omega-Terra is a savage, retro-future world filled with wonders to satiate desires both subtle and obscene. Under a bloated red sun and the ever-present "sky arc" ring system, the climate is tropical from pole-to-pole. The planet is dominated by mile-high hothouse jungles, sometimes punctuated by crater countries, glow deserts, and shattered mountains. The life found there is a riotous biome of mutated plants and animals, many of them intelligent. All these mutated lifeforms breathe, live, and fight for survival in a land built upon the millennia-old substrate of a fallen technological civilization.
It's not a world for the faint of heart or weak of mind.
Get OMEGA-TERRA WORLD MAP Now
---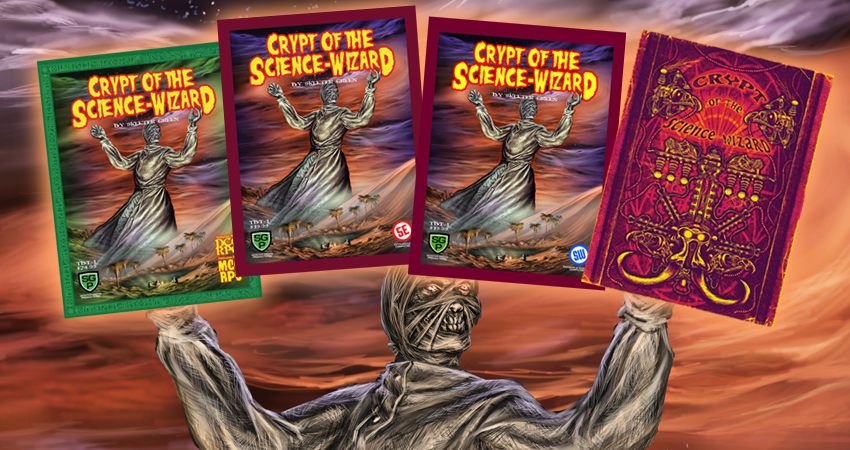 Crypt of the Science-Wizard from Skeeter Green Productions
NOW AVAILABLE IN OUR WEBSTORE!
We are very proud to offer the latest deathtrap dungeon from Skeeter Green Productions in our very own webstore! Get Crypt of the Science-Wizard in versions for DCC RPG/MCC RPG, 5th Edition, or Swords & Wizardry — even the perfectbound collectors cover edition for DCC/MCC — all just by clicking on the magic button below.
Get CRYPT OF THE SCIENCE-WIZARD Now
---